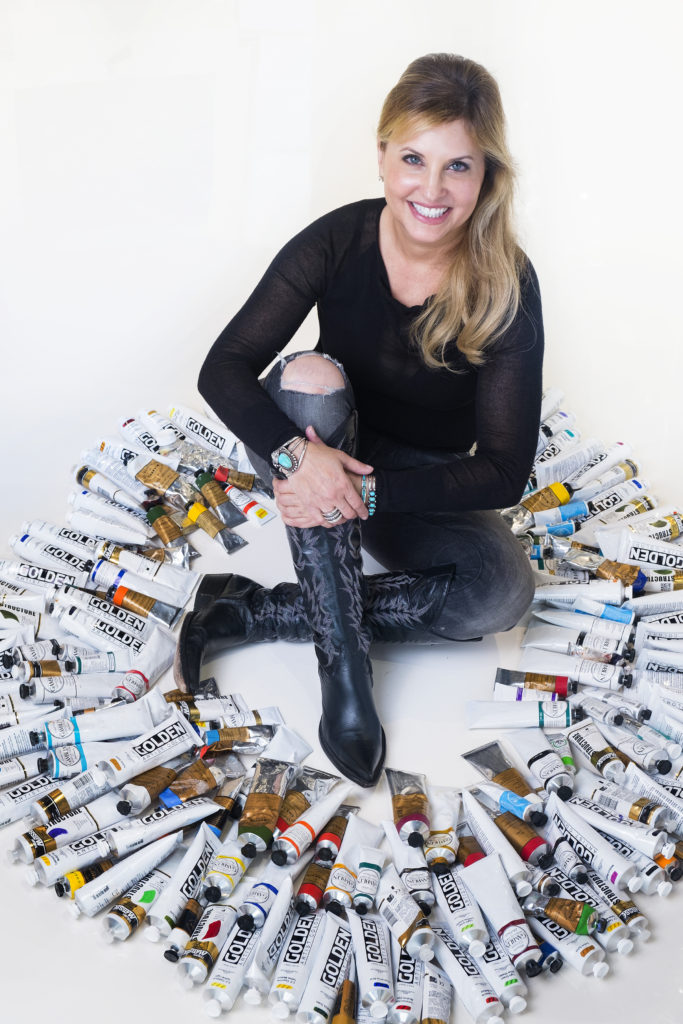 Bio
Judi Lynn Regal is an artist who works primarily in oils and watercolors. Her expertise in fine art, painting and design has spanned a period of 18 years. Regal's contemporary works focus on light, texture and the interplay of color and form. They explore the nexus of representation and abstraction. She received her BFA in Graphic Design and Illustration at the University of Texas in Austin. She was selected as one of only seven students to an exclusive Masters Program at the Chicago Art Institute specializing in Interior Architecture. Regal has studied with many distinguished artists from around the world. Prior to dedicating her career solely to painting, she started and ran a successful graphic design company in Chicago. Judi maintains active studios in both Chicago, Illinois and Palm Beach, Florida. Her work is found in many major private collections throughout North America.
Judi Regal ventures into the Everglades to paint. She is able to capture its essence. Her current work can be viewed within the broad mainstream of Florida landscape painters stretching back into the early 19th century. Judi Regal's art transcends both time and place. It evokes the exuberant, intense coloration of the Fauves, the bright vision of Oscar Bluemner and the contemporary abstracted naturalism of Wolf Kahn. "Among the leading innovators, artist Judi Regal combines the immediacy of post-war American Abstract Expressionism and Color Field paintings. She is a brilliant colorist and highly adept at landscape as well as figurative work in both oil and watercolor. Her paintings can be found in the homes of a number of distinguished collectors." Brook Mason US Correspondent The Art Newspaper.

Judi Regal was selected to the College of Fine Arts  Advisory Council at The University of Texas at Austin in June 2022.
Solo Shows
Coral Springs Museum of Art, Coral Springs, Florida. "One Woman Show of Recent Works", Main Gallery, 2017-2018
Selected Group Shows
20th Anniversary survey of collected works permanent collection Coral Springs Museum of Art, Coral Springs, Florida, 2017
Art New York Pier 94, New York, New York, 2017
Cultural Council of Palm Beach County, Lake Worth, Florida, 2017
Colorado Springs Fine Art Center, Colorado Springs, Colorado, 2015
Coral Springs Museum of Art, Coral Springs, Florida, 2015
Fort Count Mirasol Museum of Vieques, Puerto Rico, 2015
Armory Art Center, West Palm Beach, Florida, 2009
Armory Art Center, West Palm Beach, Florida, 2008
ARTIST STATEMENT
"My work is based upon my journey through life represented through landscapes. My paintings are an emotional response to landscapes I'm physically surrounded by or memories of a time and place from my past and / or present. Color, abstract forms, lines and marks suggest reoccurring ideas of obstacles, boundaries and opportunities. I'm always learning and searching new discoveries to be unveiled in time."
From the Artist
Born in Springfield, Mass, at the age of 5 years old, Judi was painting. The fascination of color was prevalent. She learned the fundamentals of painting basics at the Art Guild. "Since I was a little girl, I have always pursued my passions of painting. My parents were very supportive in my journey of being an artist. They helped me to direct my creative ideas and put them into reality. The Everglades Series is about my personal experience of actually being in the elements of the River of Grass. Spending time among the wildlife that lives there, one can truly feel the connection of nature. That connection keeps me trying to capture these moments of time. The Fire Series paintings are inspired by a cycle of nature. Fires that have a dual purpose, the destruction of our beautiful landscapes making way for the rebirth of our forest and ecosystems. The Reflection Series came from looking through my window at a cityscape. Reflections of lights are bouncing off the panes of glass, depicting the landscape within the sky. Emotions are captured in the emerging squares as they hold the memories we reflect upon."
"Color inspires me; it evokes hidden emotions within us all, sparking memories from our past and present.
May it be happiness, sadness or just a moment in time we want to capture,
I feel the struggles and difficulties in life help one to achieve strength,
and it is this that I seek to portray through the use of color.
It is on the journey of breaking through where one finds enlightenment."
"Judi Regal has created with her exquisite use of color captivating landscapes of the imagination."
– Lillian Heidenberg, Art dealer and consultant
"Your work is good and bold and expressive."
– Trudy Wiesenberger, Curator of University Hospitals Cleveland Ohio art collection
Affiliations:
The University of Texas at Austin, College of Fine Arts  Advisory Council – 2022 – Present
Palm Beach Round Table – Board Member – Present
Palm Beach International Society – Present
Everglades Foundation – Present
National Wildlife Refuge Association – Present
Norton Museum of Art – Present